Lucky Bag Giveaway Update
Hi Lovely LBB Shoppers!  In order to keep our Lucky Bag Giveaways more exciting & to spice things up a bit, we have decided to start implementing some new changes to our usual Daily Giveaways. As most of you know, our giveaways all last 24 hours and there is a new one featured every day. Starting next week you may start to see some changes like longer giveaways with more than one winner or...
BIG NEWS! Starting This Week: LBB Will Release New...
Hi Everyone!  We are thrilled to announce that we have added a new time for merchandise releases. Starting this week we will be previewing items on Tuesday at 6 PM PST to be released on Wednesday at 10 AM PST. We will still have the usual Sunday, Monday, Wednesday, Friday Exclusive Previews at 6 PM PST along with the Monday, Tuesday, Thursday, and Saturday New Arrivals at 10 AM PST. Get excited...
Lucky Bag Giveaway Winners: May 2013
5/1- LBB <3's Pixi: Farrah McDaniel 5/2- White Out: Tammy Hung 5/3- Nifty Neutral: Melinda Liu  5/4- Dainty Darling: User Juliehuynh101  5/5- Splash of Summer: Samantha Nielsen 5/6- Glorious Gold: Gayle Wison 5/7- Midday in Manhattan: Yves Gene 5/8- Playful Prints: Ana Romano 5/9- Summer Ready: User Muylilsim  5/10- On the Edge: User Chu95 5/11- BCBGeneration: Carey Wong ...
Profile: Introducing Our New Photographer, Stacy...
Little Black Bag is excited to introduce our FABULOUS new photographer Stacy Gustin! We are so thrilled to have her on the team! She the epitome of cool + creative- and takes crazy-amazing product shots. She took the time out of her busy schedule to answer a few questions. Read a bit about her below :) 1. How did you get interested in Photography? I'm not sure. There are pictures of...
The Contest Rules Glossi
Please refer to the rules below for the contest rules that were sent out via email and were available on the Glossi contest page when the contest was live. There was a discrepancy between the written rules (3 finalists) and what was stated on the landing page (5 finalists).  NO PURCHASE NECESSARY. PURCHASE WILL NOT IMPROVE CHANCES OF WINNING. MUST SUBMIT BY4/28/13 before 11:59 PM PDT TO BE...
Exchange Gallery Update
A few customers that were trying to select an Exchange Item noticed that the Exchange Gallery was not showing all of the available items that matched the rules for the Exchange Gallery (as described in our other blog post about the Exchange Gallery.)  We checked this issue out and found a small issue that was improperly excluding a handful number of products from the Exchange Gallery. The excluded...
A Note on Merchandise Releases
Hi everyone, Some of you noticed that we released a few Jewelry items as Stylist Picks last night that were supposed to release at 10AM PST this morning.  Sometimes during high sales days we may release a few items as Stylist Picks to make sure that we have enough variety in new bags, rather than keep giving you the same stylist picks. We make sure to only release a few units so that we've...
The SHOE HANDBAG Sale
To celebrate the launch of the New Exchange Policy, we are thrilled to announce the SHOE HANDBAG Sale!  Buy ANY pair of shoes and get a free extra handbag as a stylist pick.  The extra handbag is in addition to the stylist picks that you will normally receive.   The SHOE HANDBAG Sale ends on 4/24 @ 10AM PST.  Happy Trading! Check out the sale: http://www.littleblackbag.com/gallery Please let...
Shop with Even More Confidence: Improving Quality
In conjunction with the new Exchange Policy we are launching on April 22, we are also rolling out two new merchandise quality improvements to help you shop with even more CONFIDENCE!   1) Improved Merchandise Quality Control:  we will be implementing a new set of processes at our warehouse to ensure that the quality of products goes up and damages go down.  These processes will be invisible to...
We Are Listening: Improving the Exchange Policy
Over the past several days I have talked to dozens of customers on the phone, read through hundreds of feedback emails and spent several hours with customers on chat.  Listening to customers and improving the site based on feedback has always been a core company value.  LBB is all about providing YOU with an amazing experience and standing by our Happiness Guarantee. I am excited to announce a...
Lucky Bag Giveaway Winners: April 2013
4/1- Black, Gold, & Bold: Cara Newman  4/2- Steve Madden Giveaway: Diana Devlin  4/3- 4/10- CHRISTIAN LOUBOUTIN BLACK FLO HEELS: Brittany Wilcox 4/11- Classy & Sassy: Tina Thayer 4/12- Beach Babe: Twyla Esquibel 4/13- Chic In Black: User Sad Unicorn 4/14- Coachella Inspired: Christi McElroy 4/15- Sleek & Simple: Melissa Robledo  4/16- We Heart Coral: Melissa Truong  4/17-...
Introducing the VIP Program, Improved Exchange...
Note:  If you have any questions/comments, please feel free to email us at help@littleblackbag.com! Hi everyone, I am thrilled to announce the launch of several major new improvements to the site based on YOUR feedback.  These changes will go live on Wednesday, 3/27 at 11:59PM PST but I am announcing the details a few days ahead of time.  Additionally, to commemorate the launch of VIP we...
LUCKY BAG GIVEAWAY WINNERS: MARCH 2013
3/1- LBB & Fusion: Rachel Hrudko  3/2-Nila Anthony Black Lace Satchel: Yohana Ghebrhiwet  3/3-Steve Madden Taffy Tote: Faeini1 3/4-Pink Cosmo Blush Barrel Satchel: Julie Johnstone 3/5- Olivia Joy Tracker Satchel: Samantha Silvares 3/6- Street Level Stripe Satchel: Ella Parker 3/7- Pink Cosmo Blue Studded Satchel: Samantha Mills 3/8- Street Level Studded Black Bag: Mdeitz 3/9- Vieta...
Canadian Shipping Improvements
New & Improved Shipping for our Canadian Customers! Thank you for being a valued member of Little Black Bag! We are very excited to announce these important new changes for our Canadian customers. Little Black Bag is still your #1 destination to find the world's best brands at exclusive, members-only prices up to 70% off retail. But now, you'll be saving even more (avg. $7.25 per order)! Enjoy...
Canadian Shipping Improvements
New & Improved Shipping for our Canadian Customers! Thank you for being a valued member of Little Black Bag! We are very excited to announce these important new changes for our Canadian customers. Little Black Bag is still your #1 destination to find the world's best brands at exclusive, members-only prices up to 70% off retail. But now, you'll be saving even more (avg. $7.25 per order)! Enjoy...
Canadian Shipping Improvements
New & Improved Shipping for our Canadian Customers! Thank you for being a valued member of Little Black Bag! We are very excited to announce these important new changes for our Canadian customers. Little Black Bag is still your #1 destination to find the world's best brands at exclusive, members-only prices up to 70% off retail. But now, you'll be saving even more (avg. $7.25 per order)!...
Trading Never Felt So Good
One of the many features that makes LBB so fun is also what makes us really unique in the world of fashion. Did you guess yet? Yup. The Trading.  Trading is addicting, exhilarating,  rewarding, AND it just got better. We've added some awesome changes to the trading  experience that we know you're going to love. WHAT'S NEW 1.You can hide offers. Not sure you want something? You can pass...
Announcing New Merchandise Release Times!
What's your favorite way to start the day?  Maybe a cup of coffee, scanning Facebook or some Greek yogurt?  Little Black Bag's got something that could rival even the most beloved morning ritual. Here is the scoop! New Merchandise Release Times: Starting Monday, December 17th new arrivals on Little Black Bag will be released at 10AM PST.  This is a change from our previous release time of 12AM...
The wait is over! Now shipping to Canada + more...
Over the last few months, we've received numerous messages asking for more and better shipping options. After much work and coordination, we are happy to announce that we now ship  to Canada and have also added more US shipping options! For our LBB fans in Canada we are offering: Standard shipping: $14.95  Delivery time: 5- 10 business days via DHL. We researched a variety of different options...
Build Your Perfect Bag!
See it? Love it? Gotta have it? Build your perfect bag on LBB!   Even the savviest of fashionistas just can't make up their minds sometimes. Handbags and jewelry and cosmetics, oh my! We know it's easy to fall in love with more than one product on Little Black Bag. That's why we're helping you build your perfect bag! Here's how it works: Open your LBB as usual. See...
Holiday Promotion: Extra $50/25 of value in every...
The holidays at LBB will be a thrilling time for everyone!  To kick off the holiday shopping season, we are adding an extra $50 of value to each $49 bag and an extra $25 of value to each $29 bag.  This can come in the form of an extra item or a more expensive item.  This promotion will end on 11/14 @ 9AM PST.  Happy Trading! http://www.littleblackbag.com
LBB Minute to Win It!
The surprise of seeing your stylists' picks. The thrill of trading. The excitement of ripping open your Little Black Bag package. It's not hard to explain why you love LBB. But can you do it in a minute or less? Enter our video contest and win!  Here's how it works:  1. Title your video "Why I love Little Black Bag" and tell us why you love us. But...
"Why I love Little Black Bag" promotion Official...
NO PURCHASE NECESSARY. A PURCHASE OR PAYMENT OF ANY KIND WILL NOT INCREASE YOUR CHANCES OF WINNING. VOID WHERE PROHIBITED BY LAW. Little Black Bag, Inc. ("Sponsor") is pleased to introduce the "Why I love Little Black Bag" video promotion made available at http://www.littleblackbag.com. The Promotion begins on 11/7/2012 and ends at 11:59 PM PST on 11/21/2012. Pacific Time shall...
A note from the LBB team on Hurricane Sandy
As some of you know, LBB has a small office of incredible people in New York. They are responsible for all of the merchandise and photography on the site.  Due to the tragic situation with hurricane Sandy, they have been without power or water since yesterday evening.  I am happy to report they are all safely weathering out the storm and have been in close contact with the rest of us.  Many...
1 tag
Introducing the new Chat Moderators
In order to ensure that the chat room continues to be an awesome place for LBB'ers to socialize and have fun, we are announcing a new set of chat moderators "mods" and updating our FAQ with more information on chat etiquette and the role of mods.  We have selected this group of mods based on a combination of geography, time on site and reputation for amazing friendliness.  We...
Introducing the limited edition $29.95 bag!
Lusting after all the latest accessories on Little Black Bag, but still haven't had the chance to try out LBB? We don't know just quite how you've resisted ;) But we do know you're in luck! Beginning October 22nd, we are introducing the $29.95 bag! It's all the fun of shop, swap, ship neatly packaged into a little Little Black Bag. Featuring 2-3 items, 3...
Live from the County Fair
One of my fondest memories as a kid was attending the county fair with my friends and family. I loved the thrill of the roller coasters, the deliciously decadent churros and the horse rides.  But you know what I loved most?  The games.  Nothing could beat the excitement of bringing home a huge stuffed animal.  My favorite game was the balloon darts.  I always got a rush from the crisp...
Blogging, Site Improvements and Shipping Changes
As many in the LBB community know, I occasionally like to hop into the chat room to answer questions, share thoughts and get feedback on the site.  A few LBB'ers have asked that I start posting these notes on our blog so I'm happy to announce that I will be blogging on a regular basis to announce site changes and address questions that are coming up regularly.  LBB is a living, breathing site....
Dare to be famous…share your LBB videos and you...
We just launched our brand spanking NEW video gallery. You can now share your LBB hauls, reviews and how-to's directly on our site! http://lbb.ag/l1O6 Here's how it works:  Connect your Youtube channel by going to your profile page and clicking on the post a video button. You can also do it from our video gallery by clicking here: http://lbb.ag/j1q9 We'll find all your videos...
1 tag
VP of Marketing @ Little Black Bag
About the Company Little Black Bag is a venture backed eCommerce company based in Los Angeles that is introducing an entirely new way to shop online. The company is based on a Japanese retail store concept called the "lucky bag sale," where retailers sell bags of mystery products to consumers in a fun, socially engaging way.  LBB is bringing this concept online in order to create a...
Keep it light and airy this summer
Welcome to our whimsical world where everything, fashion included, is beautifully ethereal! Creams, nudes, and pale pinks combine for a light and airy look. To recreate the sheer style of this trend, we recommend flowy pieces in chiffon or lace. Whether you chose to style this look with feminine delicacy or add a bohemian twist, this chic and effortless vibe is definitely a hot trend of the...
Look Pretty in Pastel this Summer
Who says pastels are just for Easter? These sherbet colors, recently popping up all over the runways of Vera Wang, Phillip Lim, and Ralph Lauren, have become a must-have for the season. While these hues may be pale, they are seriously saturated with style. Plus, their cheerful vibe is perfect for the warm weather. Sporting this trend head to toe, fashionistas have incorporated candy colored...
6 tags
Go for the Gold!
The Olympics are heating up this summer and we just can't get enough! Catch the Olympic fever by displaying your best gold-medal fashion. Whether you're wearing gold, silver, or bronze, you can always look like a winner by rocking metallics! Mixing Up Metallics This trend may seem difficult to wear, but it's actually an easy way to transition your outfits from day to night!...
7 tags
LBB Summer Style Guide
Since it's finally summer, we're obsessed with sharing summer looks we've gathered from some our favorite fashion bloggers! Check out these fresh trends to help you look your best this season: Statement Jewelry   (photo via HapaTime) Statement jewelry instantly spices up any outfit- throw a statement necklace over a crisp white blouse or add some earrings for an extra pop of...
7 tags
LBB Inspired DIY Chevron Nails
You've probably already noticed we're obsessed with tribal patterns for summer. Well, we've decided to update our nails with a chevron pattern for the weekend, using inspiration from the Street Level Color Block Clutch. It's totally easy to do it yourself! All you need is blue masking tape, two nail polishes, scissors, and a top coat. Chevron Nails Step by Step: 1. Find...
4 tags
How To: Make Your Own Jewelry Organizer
If you're like us, you probably have tons of LBB jewelry and not much space to display it. Our solution: the super-easy DIY jewelry organizer! It's the perfect way to organize your necklaces, bracelets and rings for easy access when you're getting ready in a hurry. What you'll need: Towel bar or rack. We used one that hangs over the door to avoid drilling holes into the wall. ...
3 tags
What is your definition of style?
4 tags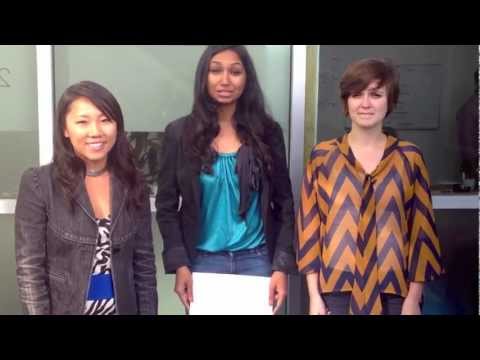 6 tags
Last chance - Stylist Challenge Ends Tomorrow!
LBB's first Stylist Challenge has spread like wildfire and the competition is fierce! The entries have ranged from floral and feminine to sassy sparkle glam. Marissa Perplies is currently in first place followed by Carina Lopez Gondres, Ramsey Wild and Zulma Larios. You have one more day to vote and help us decide who will be made the next LBB Stylist! How to vote: 1. Like the LBB Facebook...
6 tags
8 tags